The amyloid precursor protein (APP) is a large membrane protein whose C-terminus projects into the extracellular space. In Alzheimer's disease (AD), the APP is proteolytically cleaved at the N-terminal of Ab by b-secretase (BACE) to release a ~100 kD APPsb protein into the extracellular space. The remaining 12 kD fragment remains membrane bound where it can be cleaved at its C-terminus by g-secretase (presenilins) to release the insoluble Ab peptide into the extracellular space with the ~8 kD APP C-terminal fragment (CTFb) remaining membrane bound. The APP is the subject of intensive investigations to determine how this protein is broken down abnormally in AD brains to give rise to Ab, which is present in senile plaques and vessels.
A goat antiserum to a synthetic peptide that corresponds to amino acids 681-695 of the C-terminus of human APP is currently available. This antiserum has been shown to be immunoreactive with the unconjugated immunizing peptide by ELISA. In western blots it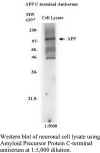 immunolabels the APP holoprotein. The smaller CTFb is rapidly degraded and not detected on westerns. This antibody should be a valuable tool for scientists working to understand the role of in Alzheimer's disease.
This antiserum was produced using proprietary methodology whereby the peptide is attached to a carrier that elicits minimal immunoreactivity so that the antiserum has a higher degree of specificity for the peptide. Since there is no overwhelming production of interfering antibodies to the carrier, this antiserum can routinely be used without further purification. Pseud-Immune™ control immune serum (Cat no. GPA018E) from a mock immunized animal is available to be used in conjunction with this antibody as well as the immunizing peptide (Cat no. HSP010C), which can be used to neutralize immunoreactivity.
Manufacturing Reference:
Selkoe, DJ, et al. Proc. Natl. Acad. Sci. USA 85: 7341-7345, 1988.